Why Are We Successful In Treating Disc Related Pain or Sciatica?
The answer is simple but powerful, we treat the cause and not the symptom.
As you might already know disc related pain is mostly caused by a compression of spinal cord or nerve. This often occurs when a bulged, protruded, or herniated disc applies pressure on the nearby nerve or cord which in turn leads to series of symptoms such as pain, muscle spasm, numbness, tingling, burning, and sharp shooting pain.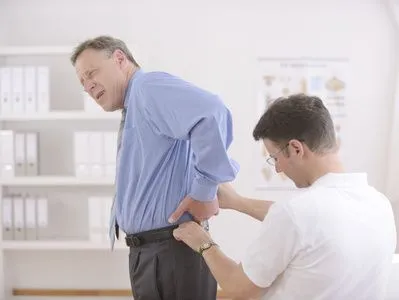 Our approach is to eliminate the mentioned symptoms by treating the cause. Then it only makes sense that if there is a pressure on the nerve to remove or relieve the pressure. Using pain medication could relieve (mask) the pain temporarily but as the medication wares off, since the cause has not been removed, the pain returns.
It is sometimes wrongly believed that when a disc is injured it will never heal except by invasive intervention or surgery. Although every case is unique and has to be evaluated on an individual basis, but it could certainly be stated that high number of disc injuries and its associated symptoms could be treated conservatively without surgery or injection . Click here to see research articles.
How Do We Treat the Cause of Disc Pain or Sciatica?
There is a large body of evidence supporting the effectiveness of a well-recognized technique known as Flexion-Distraction Technique which we use to treat most of our patients suffering from disc related pain.

We also use the latest technology, Low Level Cold Laser Therapy, to achieve fast and shorter recovery period. Cold laser therapy is unique, when compared to other therapies, as it speeds up the tissue repair process in addition to reduction of inflammation and pain. It must be mentioned this is a therapeutic laser therapy not a laser for cutting, burning, or making incisions. Please click here to go to our webpage on cold laser therapy for more information.

Exercise and stretches, when appropriate, are also given to patients on a one to one basis, to increase stability and strength.

Every patient is instructed on how to avoid a diet that might contribute to further inflammation in the nerves and what specific natural supplements to use to speed up their recovery.

We will communicate and work along with your medical doctor or specialist assuring a well-rounded approach to your health.
At Riverside Chiropractic Center we give the patients the time and attention they need and use the latest tools and techniques to help them recover from their disc pain. Our goal is to swiftly and safely eliminate your pain and prevent it from coming back. Our records, and many satisfied patients, show that we have been successful achieving this goal. We strive to reach as many as people possible and help them to overcome their pain and condition naturally without surgery or invasive procedures.
If you've been unsatisfied with other therapies you've tried in the past, or if you have never tried chiropractic and have finally decided to stop waiting and address your problem, call Riverside Chiropractic Center at 781-395-0003 to make an appointment for a complementary consultation.
* Please see our blog posts (3/4/2014 and 11/6/2011) on this topic.